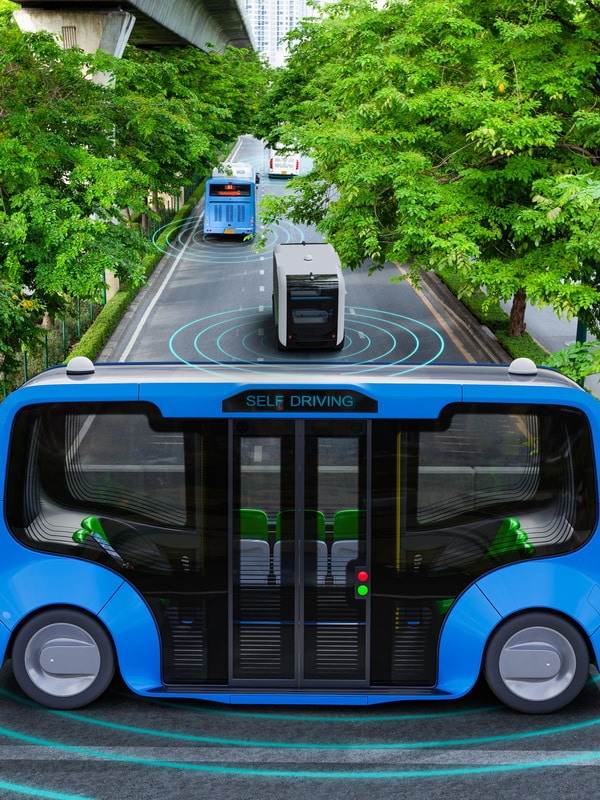 Autonomous Cars
Trends in the development of self-driving vehicles include the development of self-driving passenger vehicles and the introduction of mobility-as-a-service (MaaS) fleet models. The core technologies of self-driving cars include sensing and identification, high-precision maps, vehicle positioning, decision-making control, and chassis-by-wire control. Sensors such as lidar, radar, and cameras are the eyes of the self-driving car. At the same time, algorithms are used to analyze the data collected by the sensors to identify the type and location of obstacles.
In the development plan for self-driving cars, the short-term development mainly focuses on self-driving vehicles in closed fields, such as amusement park shuttle buses, to establish the basic core technical capabilities of self-driving cars. Mid-term development focuses on autonomous vehicles for specific fields and dedicated routes that may overlap with open fields, such as bus lanes. The long-term development goal is to realize the driving of autonomous vehicles in the open field.
The development and market prospects of self-driving car industry technology are significant. By 2030, vehicles with a global self-driving capability of highly autonomous driving (SAE Level 4) are expected to account for 55.3% of the automotive market. The associated market size is expected to reach US$800 billion. The development of self-driving cars is progressing in different stages, from a closed field to a specific field and, finally, an open field. The government plays an important role in promoting the development of the self-driving car industry. It promotes the implementation and promotion of self-driving car technology and innovative business models in combination with local needs and practical industrial applications. With the development of smart cities and the increasing demand for public transportation, SINTRONES is also working to promote the development of intelligent vehicles and self-driving technology.